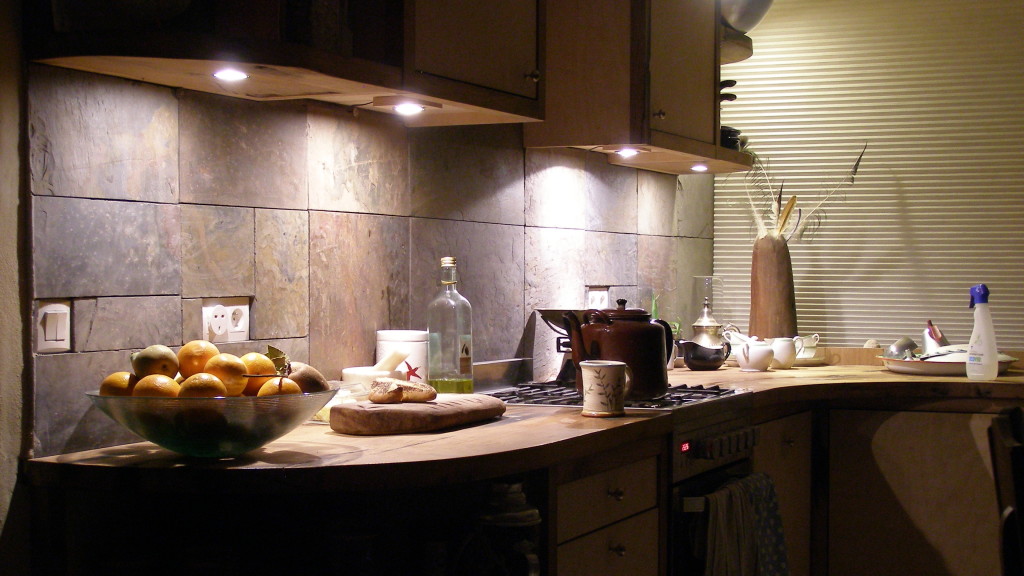 Dan, a master kitchen carpenter, was keen to work on the Groundhouse and was up for the challenge of working with our rough sea worn oak to get the smooth functionality that comes with properly engineered drawers and cupboards.
The main salvage design element in the bathroom is Adi and Sian's beautiful bottle wall.
This follows the curve of the stone resin bath and gives a great lighting effect both into the bathroom itself and, at night, back into the kitchen and fire room. Although we chose to locate the bathroom right at the back of the house, the triple-glazed polycarbonate skylight provides a flood of natural light (as well as natural ventilation). In fact, during the day, living space throughout the whole house is brightly lit from natural light streaming down through these skylights.
As well as salvage in the design, the fossilised limestone floors, granite basin and lime walls complete the natural feel of the Groundhouse bathroom.
The living space of the kitchen and fire room, and of course the roundroom are beautifully light without any dark corners or even corners at all