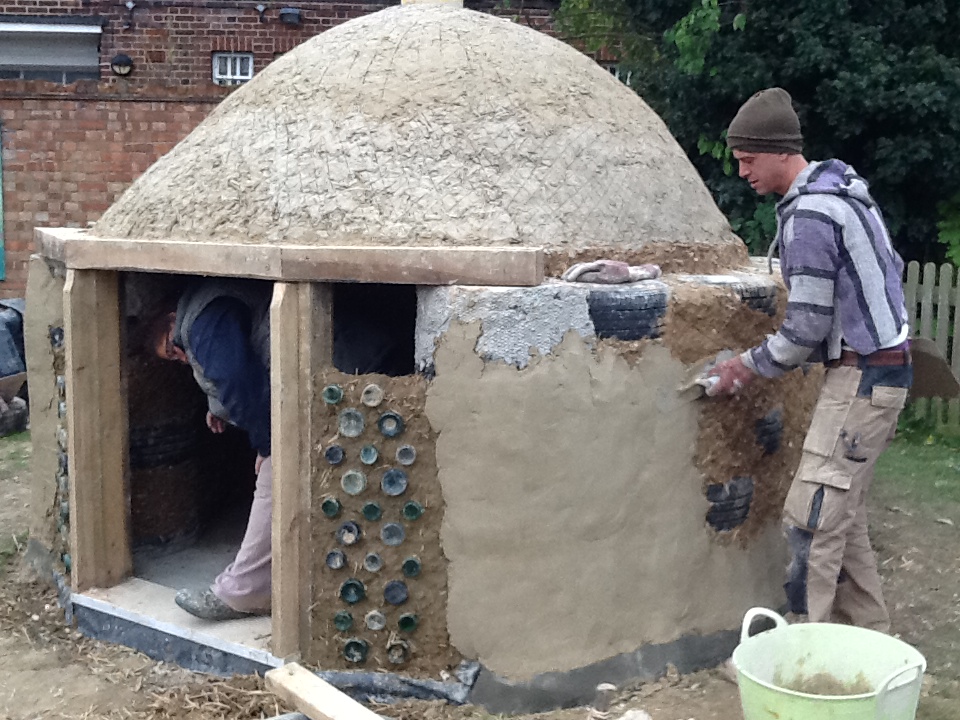 Jon Kalviac worked on the Earthship in Brighton and in Brittany on the Groundhouse.  You can see Jon in action with us in Brittany in this clip – which gives a great insight into the energy it takes to work these kind of earth rammed walls:
Jon works from Brighton and runs Yurt building courses as well as demo micro earthship builds at schools. He recently completed a project at Victor Seymour school in London.
Inspiring future generations to build their own low cost & low impact homes.
Victor Seymour School, thanks to a Big Lottery Grant, have been working towards creating the next generation of responsible, caring and informed citizens. Their project centres on the construction of a Community Eco Cave, which has been built using Earthship principles.
The Community Eco Cave has been designed using natural and recyclable materials supplied by the local community. This included rammed earth tyre walls as well as a bottle wall. The need for artificial light has been replaced by a sun tunnel, allowing natural light to flood into the room. In order to conserve water a rain catchment systems pumps any water into a butt or bog garden. Finally, for fossil-free energy, solar panels and a cycle dynamo have been used. The manpower of this build was reliant on local volunteers and the students who, thanks to this project, have been able to develop their knowledge in earth aligned living and building
Jon excels at both building and at working with schools to introduce the far reaching ideas that are behind earthships.  He regularly runs the school tours at earthship brighton.
contact Jon Kalviac for more information on earthship education and yurt building
Victor Seymour Eco Cave
Brighton Yurt Making – Learn to make a yurt with Jon Kalviac
Yurts are the evolution of nomadic Mongolian homes called gers. The yurt and ger, like Native American tipis, can be erected and taken down in a matter of hours or developed into more substantial buildings. Jon is running regular yurt building course next to the Earthship in Brighton.  Students of this course will leave with the skills and knowledge needed to make a yurt home. His course offers a foundation in yurt making, with transferable skills in green woodworking in general and carpentry. A tour of the Brighton Earthship on the last day of the course is also available for those interested.
contact Jon Kalviac for more information on earthship education and yurt building